Access Point Cambium XV3-8
is one of the most efficient devices we have tested so far. It's not surprising, since this is
enterprise-class
equipment with rich capabilities and excellent specifications, with
WiFi 6 standard
at the forefront. Although the price of the small AP is quite high, it hides a wealth of well-developed capabilities. As the manufacturer defines SDR -
Software Defined Radio
. The software-defined multi-radio 8x8 access point supports the latest standards, including WPA3 and radio frequency optimization. The solutions used in
AP Cambium XV3-8 with 5 radios
allow simultaneous propagation of up to , as well as connection and support of up to , also with backward compatibility of WiFi standards. It is therefore a proposal to provide an efficient network with high capacity and density. So find out what is the specification of the XV3-8 device, what is included in the compact kit and what configuration and test conditions were adopted to test the capabilities of the Cambium
access point
.
Specification for access point Cambium XV3-8
Cambium Networks XV3-8 is a device from the Enterprise Wi-Fi series - E-Series. It can operate in WiFi 6 - IEEE 802.11ax standard in 5 GHz band as MU-MIMO 8x8 or 2 transmitters 5 GHz MU-MIMO 4x4, which best shows its potential. According to the manufacturer, it allows simultaneous transmission of aggregated data at a level of up to 6 Gbps. If necessary, it also provides the ability to be configured in 2.4 GHz frequencies in MU-MIMO 4x4 mode. The radio specification includes:
2.4 GHz radio with 802.11b/g/n/ax support, 5 dBi antenna, Max EIRP 2.4 GHz: 31 dBm
4x4 Dual-band scan radio, 2.4/5 GHz sensor 5 dBi / 6.3 dBi
5 GHz radio with IEEE 802.11a/n/ac Wave 2/ax capability, 6.7dBi antenna, Max EIRP 5 GHz: 36 dBm
1x1 BLE 4.1 Module, 5 dBi Antenna
The characteristics of the antennas in the manufacturer's specifications look great - you can see them on the manufacturer's website:
Security of wireless networks is possible in the best standards: WPA3, WPA2 (CCMP, AES, 802.11i), WPA2 Enterprise (802.1x/EAP), WPA PSK (TKIP), as well as open networks.
The hardware provides extensive configuration options, either locally via the interface or using
Cambium XMS management
or
the cnMaestroTM cloud
, although the range of available configuration varies. It's also an EasyPass feature with Microsoft Azure and Google G Suite integration. Online, a full
manual for Cambium Networks' XV3-8
is available on the manufacturer's website.
On the outside, the device provides a number of physical ports and a reset button, hidden behind a partial cap. These are:
USB 3.0 standard port,
Mains power input 12V, 3A,
1 x IEEE 802.3 10/100/1000 Mbps - ETH2 1G,
1 x IEEE 802.3bz 100/1000/2500/5000 Mbps - ETH1 5G PoE.
Temperature rating for proper operation of the
XV3-8
professional
AP
is 0ºC - 50ºC with 95% RH
non-condensing
, and storage -20ºC - 70ºC. The expected MTBF of the equipment is 111k hours. The XV3-8 Wi-Fi 6 Access Point has a limited
lifetime
hardware warranty, limited to 5 years after the end of sale.
Details of
Cambium Access Point XV3-8
and latest firmware can be found after logging in at
support.cambiumnetworks.com
Cambium XV3-8 WiFi 6 AP - unboxing business access point
Acces point from Cambium Networks is directed to professional customers. That's why the kit delivered by the manufacturer does not contain the usual elements included with WiFi APs or routers, such as Ethernet cable or power adapter. In a simple, cardboard box with a one-color print, QR code and a sticker with the data of a particular unit there are the elements:
Brief instructions for installation and operation.
Universal mounting bracket.
Access point XV3-8 has dimensions of 235 mm x 235 mm x 42 mm and weighs 1250 grams.
Ceiling-mount bracket.
Pins and screws necessary for installation.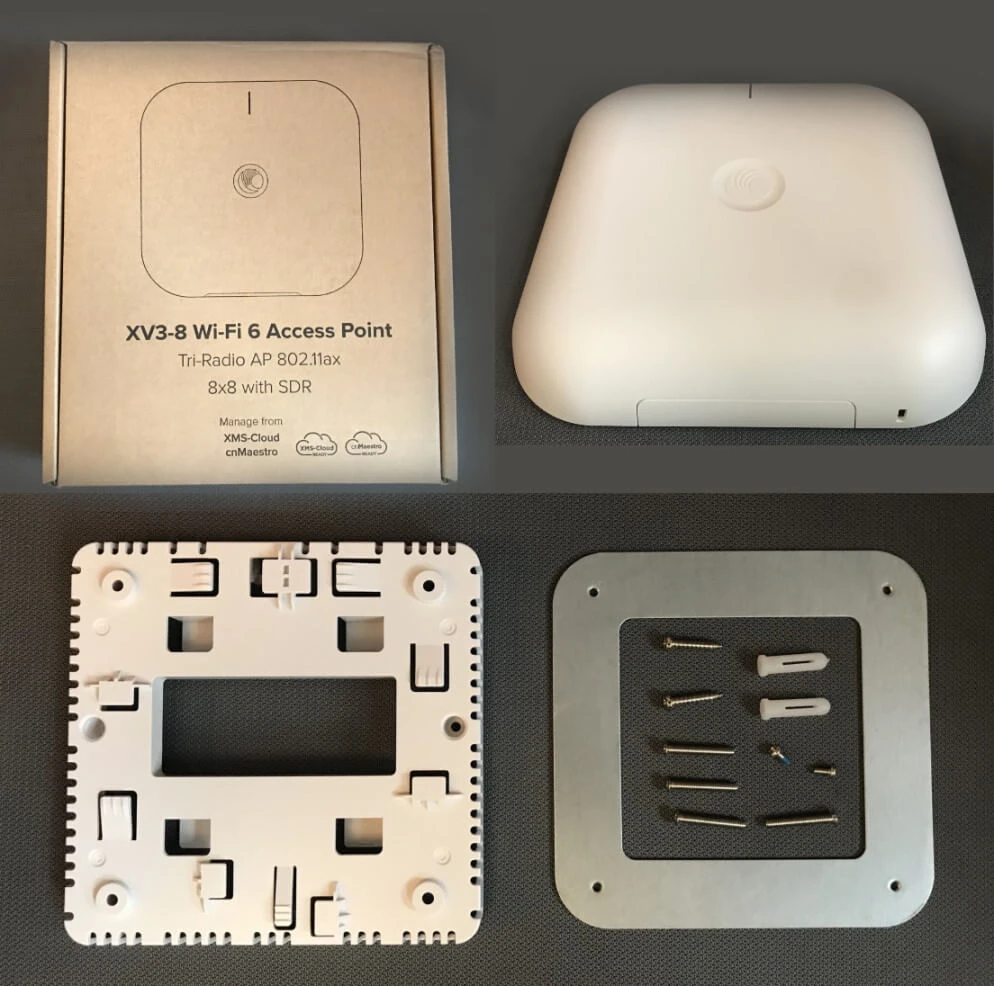 The access point from Cambium Networks
features a simple and elegant design that fits well in various types of interiors. Neutral white color and rounded, rectangular shape based on square is not obtrusive. A multi-coloured LED informs about the device status, while the ETH and USB ports can be hidden behind a dedicated cap. Thanks to the bracket creating a distance, the cable routing can be done in a fully aesthetic way. Mounting of
Access Point XV3-8 by Cambium Networks
is extremely easy and does not require advanced skills. Due to
Kensington lock
slot, the device allows physical protection against theft.
Configuration of XV3-8 access point from Cambium Networks
The web interface, GUI, and the ability to configure the
XV3-8 Cambium access point
via Cambium XMS or in the cnMaestroTM cloud allows for many advanced settings. The tests were conducted only with 5GHz interface enabled and 2.4GHz interface disabled.
AP XV3-8
had "Airtime Fairness" disabled by default, and Radio Mode on "default", indicating acceptance of all WiFi standards. Quite clear interface allows to find all necessary settings. For each of the four types of tests carried out, we changed the radio operating settings, but this did not require a reboot or update, just an automatic restart of the radio module of the device.
Annotations for configuration and administration
If you receive
a Cambium XV3-8 access point
with software older than version 6.2.2-r4 we strongly recommend upgrading to the latest version available at
support.cambiumnetworks.com
. After a properly installed software update, it is a good idea to perform a software reset to factory settings so that all changes are implemented without problems. If you have a newer or equal version of the software, the above steps are not necessary, but it is recommended to verify that your
XV3-8
has the latest stable version of the system.
If you observe poor performance of the Cambium Access Point, you should check if the "NSS-OFFLOAD" option is enabled. To do this, log in via SSH to the device and check the
show config all
configuration command. If present:
"nss-offload" - means the NSS offload option is activated.
"no nss-offload" - indicates that NSS offloading is disabled,

If the function is set to "no nss-offload" it is worth executing the command: "nss-offload", confirm, and then restart the device.
Test conditions for XV3-8 WiFi 6 Access Point Cambium Networks
Performance tests of the Cambium AP XV3-8 were conducted on two software versions. On the basis of the comparison of the version 6.2.2-r4 and unofficial version 6.3-r8 made available by Cambium, we have to say that the performance of the access point is better optimized, higher and higher throughputs are supported. During the tests we verified the influence of the transmitter and receiver power on the overall achieved result. It turns out that the results obtained with max/auto power compared to the power reduced almost to minimum did not differ significantly.

The XV3-8 access point is connected on a 5 Gbps Ethernet interface, in native 1 - data transmission mode, while the management is connected via VLAN on a 1 Gbps Ethernet interface. The device is powered through the Cambium 5 GbE PoE adapter NET-P60-56IN.

Although the tests were conducted in the same building as other tests we have published of other WiFi devices, we adopted a different way of saturating the capabilities of the network to test the maximum capabilities. Tests conducted with all devices shown below connected to the transmitter simultaneously, in a schematic drawing of the network topology.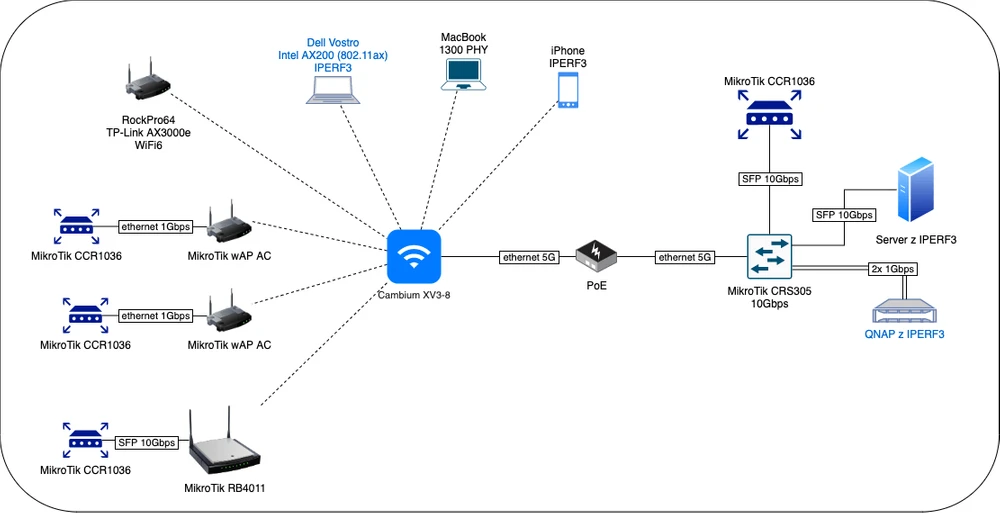 The clients are the devices:
1 pc. MacBookPro - max 1300Mbit PHY, 80MHz
1 iPhone - max 867Mbit PHY, 80MHz
2 wAP AC (AC1200) - max 867Mbit PHY, 80MHz
1 pc. Dell Vostro with WiFi6 Intel AX200 card, 160MHz
1 pc. RockPro64 with TP-Link AX3000e, WiFi6, 160MHz
1 pc. RB4011iGS 5HacQ2HnD with 7.1beta5 with wave2 package, 160MHz or 80 80MHz
The devices responsible for handling the bandwidth test packet generators are:
QNAP 2x1GBit with iperf3
4pcs. MikroTik CCR1036 (10G interfaces)
MacOS 10Gbit with iperf3
MikroTik CRS305 switch (10G interfaces)
Range tests Cambium XV3-8 WiFi 6 access point
Despite the manufacturer's claims of good characteristics of the 5 GHz and 2.4 GHz antennas, during the range tests we were unable to confirm the above characteristics. We noticed visible deterioration of the signal directly in the edge line of the device plane (above and below the AP, and on its side) in comparison with forward transmission. Of course, such signal deterioration is technologically justified and may result from the design of the antenna.

The HeatMap below shows one of the best results we've seen recently with the tested devices.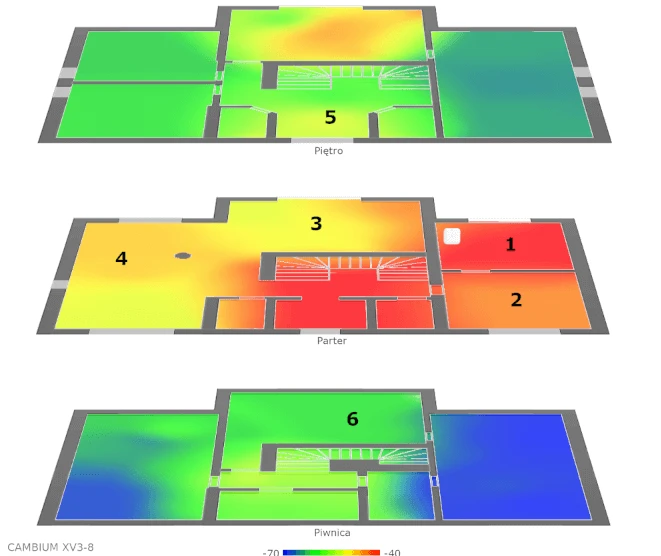 The occupied channel bandwidth is very good, it doesn't interfere with neighboring channels, making the XV3-8 AP from Cambium should also work well in areas with a fair amount of WiFi density. The results from the analyzer can be seen below: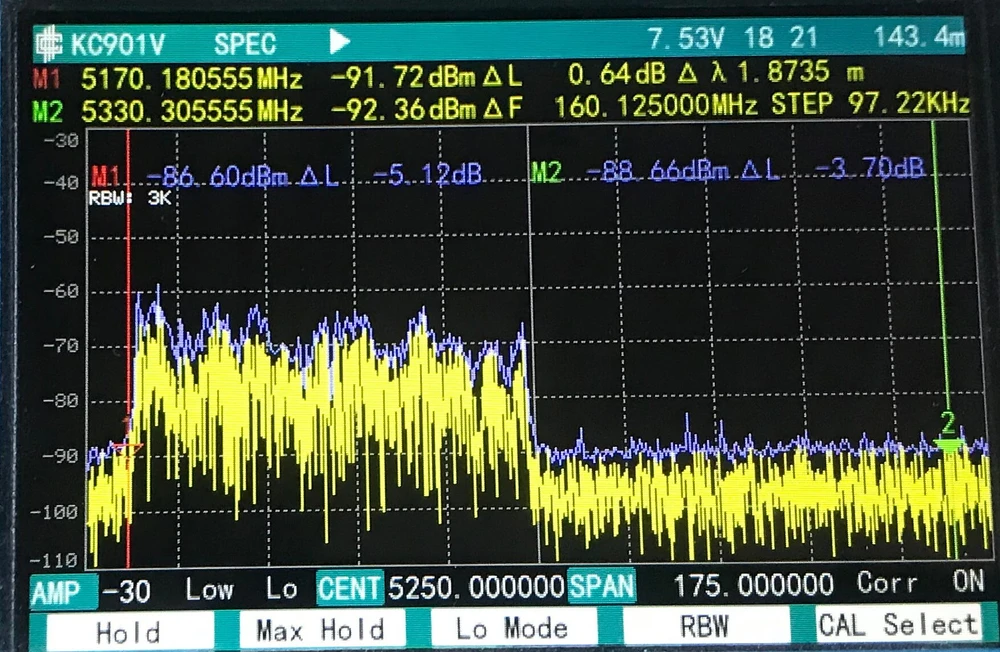 When it comes to transmitting the signal, the device performs very evenly. As you can see from the network analyzer graph, the transmit power is not overdriven. Ample margins are maintained on both sides of the channel edges, which will ensure seamless operation even in an environment with multiple transmitters on adjacent channels. The device generates practically no noise on them. In this respect, the characteristics can be considered exemplary.
Test 1 - how does the Access Point XV3-8 Cambium Enterprise Grade perform with a single 1x160MHz device?
Testing the WiFi network on a single 160 MHz channel with one device at a time, we achieved the following results:


The iperf3 test:
Dell Vostro WiFi6 Intel AX200:
TCP: 740-795 Mbps
UDP: 740-854 Mbps
MikroTik Bandwidth Test:
RB4011 wave2 1733Mbit PHY:
Test 1 TCP session - 674-688 Mbps
Test 1 UDP session - 954-980 Mbps
Test of 20 TCP sessions - 690-710 Mbps
Test 1 UDP session - 668-738 Mbps
Test 20 TCP sessions - 447-457 Mbps
Test 1 TCP session - 487-511 Mbps
Despite testing devices that support a channel width of 160 MHz, it was not possible to obtain the best result for the possibilities offered by such a channel width. However, the achieved speeds are higher than for a single 80 MHz channel.

It is worth noting that for the vast majority of IEEE 802.11ac compliant devices, exceeding significant XV3-8 link saturation above 1 Gbps is difficult to achieve, regardless of whether the network devices operate on an 80M Hz channel width or a 160 MHz channel. A result of 800 MHz average TCP seems satisfactory and sufficient for most possible scenarios of WiFi connection usage in devices.
Test 2 - XV3-8 Cambium WiFi AP with six devices on 160 MHz channel
In this simultaneous test performed on six devices, the single stream limit was set to a maximum of 600 Mbps. In total, three devices performed the MikroTik Bandwidth Test and four devices performed the iperf3. You can see the results in the chart below: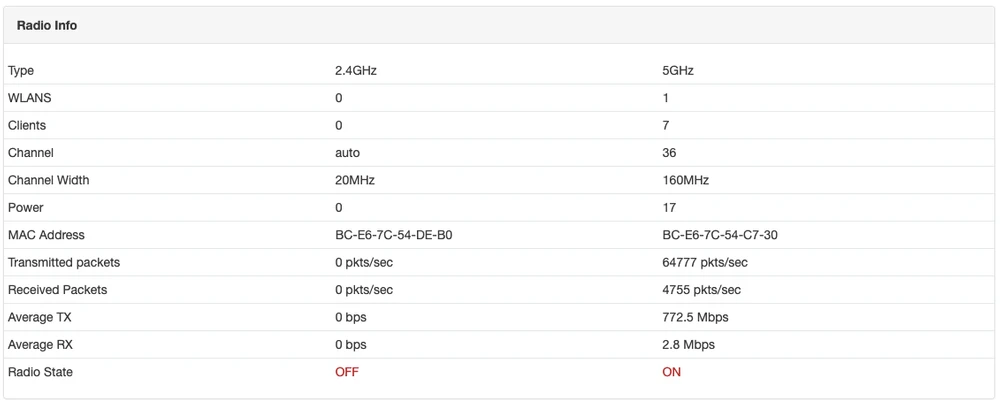 The achieved result is represented by a graph of statistics collected by the WiFi 6 XV3-8 access device over a period of several minutes. TCP traffic tests yielded results in the 850-930 Mbps range, with a long-term average of about 904 Mbps.
Test 3 - Cambium XV3-8 access point in 2x80MHz configuration with a single device
When testing individual devices with the AP configured for 2x80 MHz channels, we obtained the following results for the tests:
MikroTik Bandwidth Test - RB4011 wave2 1733Mbit PHY:
Test 1 UDP session max 1010-1065 Mbps
Test 1 TCP session max 659-673 Mbps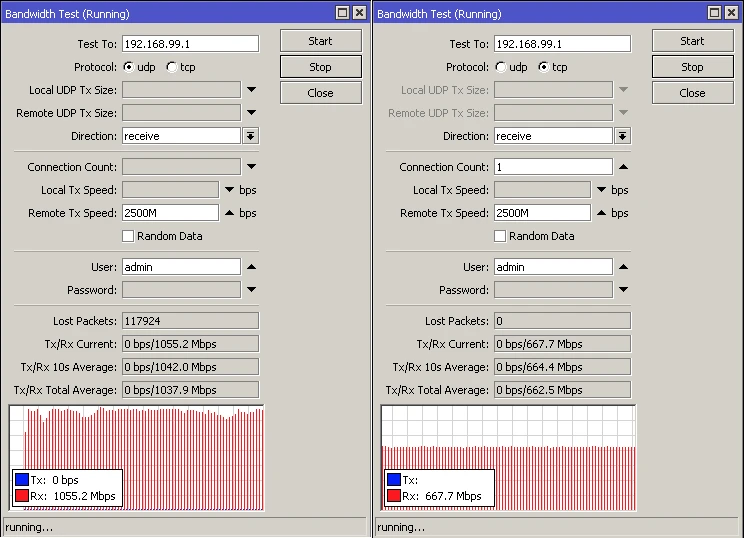 Iperf3 - MacBook 1300Mbit PHY:
TCP: 751-795 Mbps
UDP: 675-855 Mbps


For the remaining devices, no results above 800 Mbps could be obtained.
Test 4 - how does the XV3-8 Cambium 2x80MHz AP perform in the full test environment?
As with test two, the single stream limit was also set to 600 Mbps here. The six WiFi clients were evenly distributed, with 3 on each channel (36 and 100). As in previous cases, three network devices tested connectivity using MikroTik Bandwidth Test, and three thanks to iperf3 application. In our opinion, this test shows best performance of Cambium Networks XV3-8 access point similar to normal conditions, only on a smaller scale.


Test 4 showed that the access point supported an aggregate throughput of 1.5 Gbps under the conditions described above.
Efficient access point for demanding customers - summary
Access Point XV3-8 from Cambium Networks shows excellent approach to products designed for business. We have used only a part of its capabilities in the tests. Definite advantages of AP XV3-8 include real ability to support more than a thousand clients, as well as the ability to create up to 16 efficient networks. The 5 Gbps ETH port allows for good throughput even with many simultaneously connected users using the network intensively. Support of WiFi WPA3 security standards, 802.11w standard or 802.11e QoS service prioritization allows to create a secure and efficient network configured according to the needs. Although the price of Cambium Networks WiFi Access Point 6 XV3-8 may seem high, you are paying for the quality and business class, professional refined network device.
Assumptions and test results
Due to the current situation in the market, where by far the majority of customer devices usually work in WiFi 802.11n and 802.11ac standards, in the tests we used a preponderance of these devices, in opposition to those working in the latest WiFi 6 standard. The purpose of the following tests is not to obtain maximum throughput in optimal conditions, but to show how the XV3-8 Cambium access point will work in a situation similar to real conditions. An example can be a conference or a public place, where the variety of WiFi standards of devices using the network is usually in the range from WiFi4 to WiFi5 standard, with still a small representation of devices in WiFi6 standard.
It is therefore worth noting that when using only devices of WiFi6 standard in their networks, the throughput performance of the XV3-8 WiFi 6 Cambium Networks access point will be much higher than in our tests.