MikroTik
compact access point
from RouterBoard series - wAP AC
(
RbwAPG-5HacD2HnD
) supports WiFi 5 standard - 802.11ac Dual Band. It is
a newer version of the classic wAP AC model
, with improved antenna performance and increased computing power. Dual-band WiFi router with the possibilities of rich configuration seems to be a good and quite universal proposal for various applications. Due to
two Gigabit Ethernet ports
, the router can be powered via PoE, or via included power adapter. Weather resistant housing allows to use the device outdoors, and anti-theft protection guarantees protection against unauthorized access. This model is also available in a black version -
RBwAPG-5HacD2HnD-BE Black Edition
. Get to know its specifications, configuration options and check how
MikroTik wAP AC
performed in our wireless and bandwidth tests.
MikroTik's wAP AC specification - a robust dual-band access point
MikroTik RouterBoard wAP ac is characterized by relatively efficient specifications, and the network device is available at affordable price. The access point has been equipped with efficient quad-core IPQ-4018 processor (716 MHz, based on 32-bit ARM architecture), 128 MB RAM, and 16 MB internal flash memory. It is ideal for operating mobile devices even under heavy loads. What's more, the RouterOS operating system with license level 4 is responsible for managing the hardware capabilities. The system is preinstalled, no additional license is needed, and the manufacturer guarantees free updates for at least five years from the date of purchase. The device has dimensions 185 mm x 85 mm x 30 mm and is quite resistant to external factors. The waterproof casing of IP54 class protects the components, which have a wide temperature range between -30 and 60 degrees Celsius.
RouterBoard wAP AC RbwAPG-5HacD2HnD has two built-in antennas with 2.5 dBi gain and full-angle radiation, working in 2x2 MIMO technology - dual chain. It allows simultaneous operation of WiFi networks at 2.4 GHz and 5 GHz. The total aggregated throughput of shared WiFi network is at the level of 1200 Mbps - 1200AC, 300 and 867 Mbps. This combined with two Gigabit Ethernet ports creates a configuration that meets the needs of a large portion of users. It is worth noting that 802.3af/at PoE standard supports only one of them. The input voltage for the DC power supply can be in the range of 10 V - 57 V, and for PoE - 18 V - 57 V. The maximum power consumption can be 10 W.
Due to the waterproof nature of the MikroTik device, all its connectors are hidden behind a special cap, just like the mounting point and indicator LEDs. The design allows to run the cable through the wall or ceiling to which the wAP is attached. The installation may be exceptionally esthetic. Access Point RouterBoard wAP AC MikroTik has also been equipped with optional stand for placing it on a flat surface.
MikroTik wAP AC kit - device unboxing
Access Point Routerboard MikroTik wAP AC is supplied in a set allowing to mount the device in different ways. Thanks to that and the mentioned rugged housing, it becomes a very universal device. Inside the compact and minimalist box you can find all components shown in the picture below:
The components of the kit are carefully laid out and protected for transport. To ensure water resistance, the wAP AC MikroTik is equipped with removable cover. After opening the flap protecting the ports of RouterBoard wAP AC MikroTik, the user can get convenient access to them:
What exactly is included in the access point RbwAPG-5HacD2HnD MikroTik kit? See below for details:

MikroTik wAP AC Access Point RbwAPG-5HacD2HnD with a port cap.
2. DC 24 V 0.8 A power supply.
3. the Gigabit PoE injector power supply/adapter.
4. wAP Quick Reference Guide.
5. the mounting brackets and accessories you need to accurately install the modem in different variations:
K52 - set of screws
wAP desktop stand
Metal clamp
mounting bracket
mounting bracket
Such a set, of course without the included Ethernet cables, is practically complete and allows for quick installation almost anywhere. Access Point wAP AC updated model can, similarly to its predecessor, be placed on a desk, mounted on a wall, suspended ceiling, or even on a mast. IP 54 rating of the housing allows to use it in any location. Simple design of RouterBoard wAP AC, well known from other versions, fits into any environment. Additionally, at the time of purchase the user can choose white or black model, which will allow to match the device even better to the aesthetic requirements of the user.
Basic configuration of MikroTik Wireless Access Point AC
MikroTik wAP AC Access Point can be configured in many different ways, with advanced settings for numerous usage scenarios. Nevertheless, the device is dedicated mainly to basic home applications, so complicated configuration may not be necessary and default settings will be sufficient. Thus, thanks to ready-to-use wizzards, the complexity of configuring MikroTik wAP AC RbwAPG-5HacD2HnD is reduced to a minimum. Settings can be entered using mobile application, web interface or advanced WinBox application.
Mobile application for configuration of RouterBoard wAP AC MikroTik
For first-time users of MikroTik devices or those looking for a quick and easy configuration we recommend MikroTik application. The manufacturer of MikroTik RouterBoard wAP AC provides easy-to-use mobile software for Android and iOS, available free of charge in official application stores. The name of the application worth installing is MikroTik: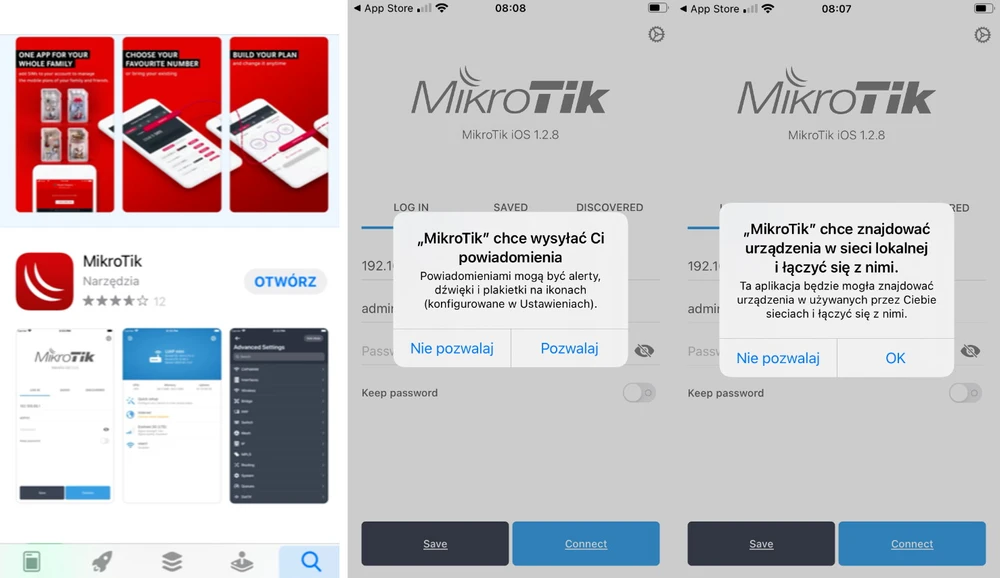 MikroTik application should be granted rights to use the network and connect to devices available in it. This is not difficult because in the process of the first start or even installation you will be prompted for these access rights. Additionally, you can agree to use other capabilities, for example, displaying notifications about important events related to the WiFi network.

The next configuration steps are:
Startup of MikroTik access point - connection to power supply or PoE.
Connect your phone or tablet with the installed MikroTik wAP AC WiFi network application according to the instructions and data on the device packaging.
Login to wAP ac with default data, i.e. login admin, password empty.
Start making your own settings for the device or use the wizard.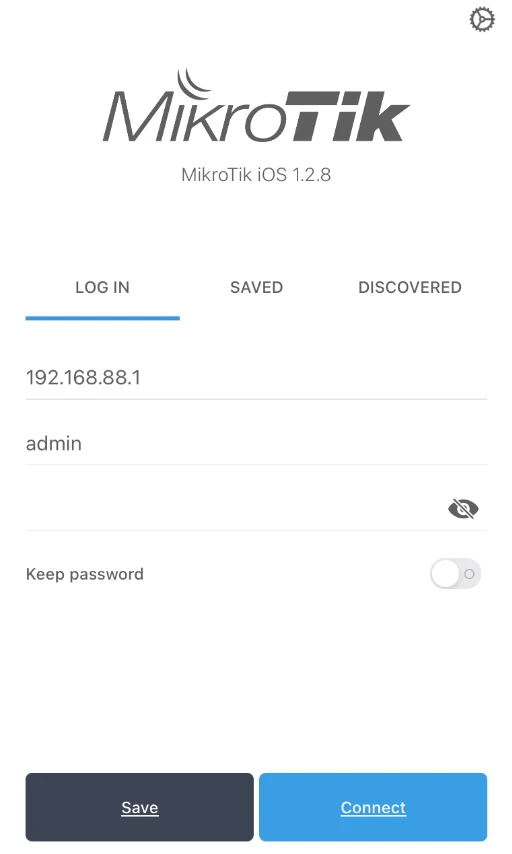 The MikroTik application automatically detects the need for settings other than factory defaults and offers a quick configurator option - Quick Setup. There are also default, recommended settings, which will be a great help for people without proper knowledge or experience.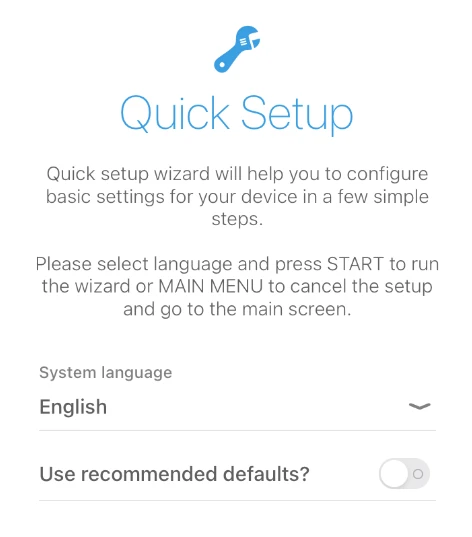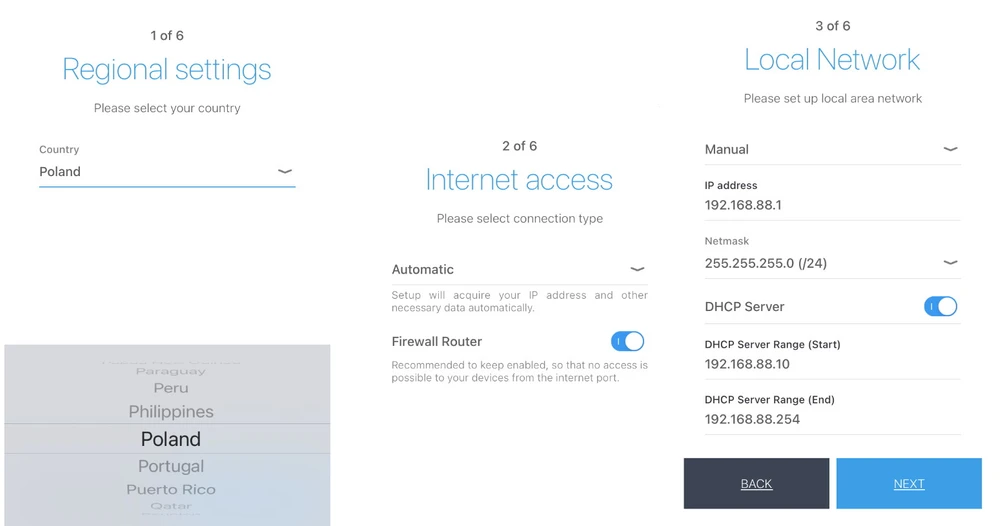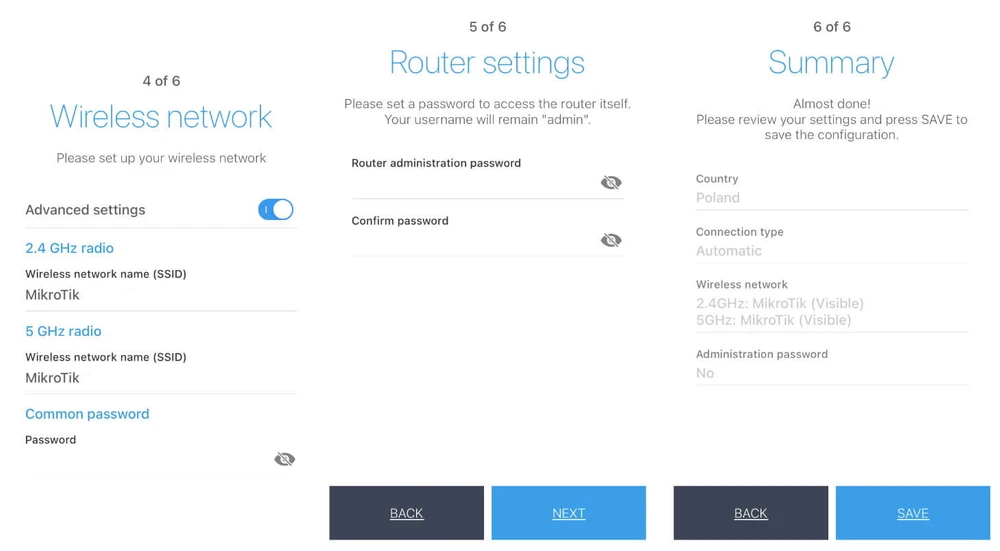 In the MikroTik app, you can also verify the current configuration as standard or delete it, thus resetting the device to factory settings.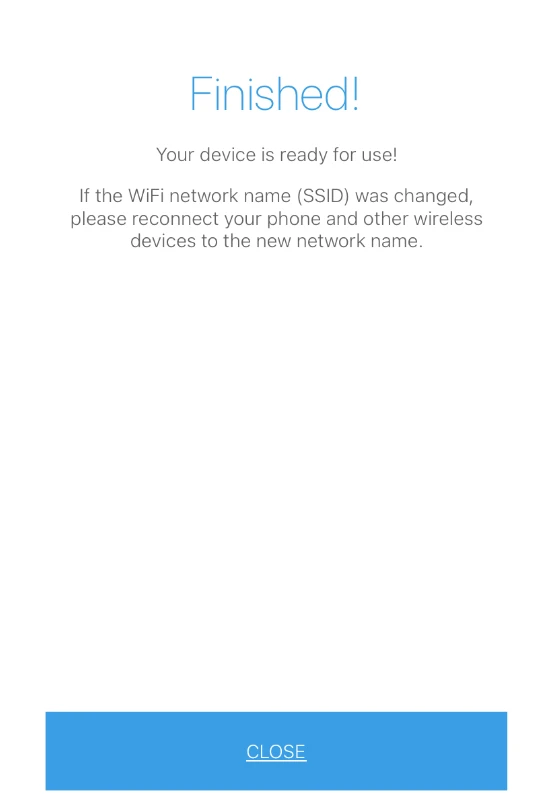 Making settings via WWW interface
MikroTik wAP AC users a little more advanced, or simply unwilling to use the application can decide to enter the settings in the classic way, without installing the application. Web interface is available virtually on any computer that can connect to MikroTik RouterBoard wAP AC, including phones with web browser or tablets. After establishing wireless or wired LAN connection with the device, the user should enter the default IP address of MikroTik wAP AC - in the browser bar.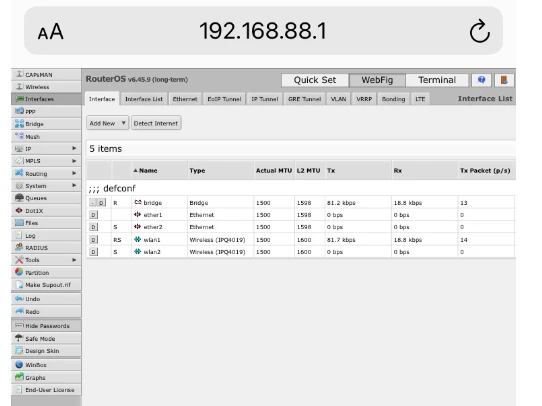 In addition to detailed configuration options sorted into categories, the user interface also features a Quick Setup menu. This allows you to make the necessary settings in a simple and time-saving way.
What are the test conditions for MikroTik wAP AC?
We put the MikroTik wAP AC WiFi router to the test for WiFi capabilities, throughput and network coverage. This is another test in the series conducted under similar test conditions. We have checked the signal coverage in a two-storey building with a basement, as well as the real available transmission speeds. The conditions we determined for the WiFi tests are similar for each of the network devices tested so far. This allows you to compare their results in a fairly meaningful way.

Our main testing device is a MacBook Pro A1502 with an internal AirPort Extreme WiFi card based on Broadcom BCM4360 3x3, with 1.3 Gbps PHY. It supports IEEE 802.11a/b/g/n/ac standards. The tests are based on an iperf3 server wired to the switch. Before speed testing, we verified the maximum performance of the LAN and the iperf3 server by connecting a laptop using a Gigabit Ethernet card to the switch. We obtained maximum speeds for a single TCP stream of 894 Mbps for download and 958 Mbps for upload.

To obtain a signal level map we again used AirSurvey software. The measurement points marked by numbers for each test are distributed as in previous experiments. The MikroTik RBwAPG-5HacD2HnD device is placed in the location marked by the access point symbol.
The meaning of the colors shows signal strength. The MikroTik WiFi wAP AC LTE6 RouterBoard performs rather poorly in terms of WiFi coverage, especially in comparison with its counterpart equipped with LTE cat.6 modem.
WiFi connectivity tests in MikroTik wAP AC access point
The WiFi transmitter module in 5 GHz frequencies according to the analysis operates in a manner deviating from that expected. In the following characteristic obtained from the network analyzer, it can be seen that the channel width of 80 MHz does not have a steep descent from the set frequency, so that it can interfere with neighboring channels. Although margins are maintained at the top on both sides of the channel edges, interference is evident. This can cause problems for use in a high-density environment. MikroTik wAP AC generates a small amount of noise at extreme settings on adjacent channels. The measurement showed interference levels as low as -79.
The results of tests of download and upload speeds in wAP AC wireless network from MikroTik are shown in the table below. However, from a device of this price we could expect slightly better results in our test environment.

Test point 1 - Download 453.85 Mbps / Upload 511.54 Mbps
Measurement point 2 - Download 384.09 Mbps / Upload 367.29 Mbps
Measurement point 3 - Download 388.27 Mbps / Upload 268.88 Mbps
Measurement point 4 - Download 355.94 Mbps / Upload 185.27 Mbps
Measurement point 5 - Download 34.92 Mbps / Upload 5.31 Mbps
Measurement point 6 - Download 71.17 Mbps / Upload 21.68 Mbps
The first test point for the MikroTik wAP AC RbwAPG-5HacD2HnD located a short distance from the device showed fairly good results, holding at an average throughput of 468 Mbps download and 378 Mbps upload. At the second and third measurement points the results are noticeably weaker, but still satisfactory - 328 Mbps download/ 272 Mbps upload for the second and 315 Mbps download / 224 Mbps upload for the third wAP ac speed measurement point from MikroTik. At the fourth point, the last on this floor, the results are still satisfactory - 316 Mbps download / 156 Mbps upload. The measurement points that were separated from the access point by the ceiling showed significantly reduced transmission capabilities, but the devices were still able to establish stable connections with throughputs at the average level of 20 Mbps download / 4 Mbps upload for the fifth point and 28/19 for the sixth.

It should be noted, however, that the WiFi connection with MikroTik wAP ac at each point managed to establish in a stable manner, and the transmission was quite stable, maintaining the same level at a given point during the tests.
Simple access point with advanced software - wAP AC from MikroTik
The summary of the test of MikroTik RouterBoard wAP AC RbwAPG-5HacD2HnD shows that the device, despite some shortcomings, performs well in the test conditions. The range is good, the throughput is satisfactory. A little disturbing may be the noise on adjacent channels, which will theoretically interfere with other networks in heavily congested WiFi environments. However, quite high versatility of the access point, combined with compact and robust housing, encourages to choose it, also due to relatively attractive price.
Notes on management of MikroTik Wireless AC Access Point
Due to specific advanced interface for devices of RouterBoard line supported by RutOS system, the first-time users may have problems with finding the necessary information. Therefore, it is worth to use intuitive configuration via mobile application. For MikroTik wAP AC router there is simple wizard allowing to enter basic settings, as well as various profiles facilitating proper selection even for less technically advanced users. It is worth remembering during the configuration process to change default access data to the device - the login and administrative password, in order to increase network security level.