Network device providing a variety of communication options in a compact, rugged housing - this is the short description of the
MikroTik RouterBoard wAP LTE6
wireless access point with accessories. Although the
wireless access point
itself works "only" in WiFi 5 standard, i.e. complies with IEEE 802.11ac, simultaneously in 2.4 and 5 GHz bands, the presence of LTE6 modem and two Gigabit Ethernet ports makes it a device with many possibilities. Acting as an
LTE router
, the specification of the various functional elements is excellent. In addition, being powered by passive PoE, IEEE 802.3af/a or optionally via a DC outlet does not limit the installation options of the device. See what the specification of this access point kit is, how it can be conveniently configured and how it fared in our wireless tests.
MikroTik wAP AC LTE6 Kit specification
Access point with built-in LTE cat.6 modem - MikroTik RouterBoard wAP ac LTE6 kit - provides quite rich specification for reasonable price. The device has on board a powerful quad-core IPQ-4018 processor clocked at 716 MHz, 128 MB RAM, and 16 MB internal flash memory. This configuration allows for efficient operation even under heavy loads. MikroTik wAP AC has miniPCIE interface. The LTE/WiFi router runs excellent RouterOS operating system with level 4 license. The access router itself measures 185 mm x 85 mm x 30 mm. It can operate in a wide temperature range from -30 to 60 degrees Celsius, both indoors and outdoors.

The modem supports 2G/3G/4G connections, providing theoretical transmission speeds of up to 300 Mbps for downloads and 50 Mbps for uploads. It supports bands 1, 2, 3, 5, 7, 8, 12, 17, 20, 25, 26, 38, 39 and 40 and 41n and their aggregation - carrier aggregation allowing for better operation even in crowded areas or at low coverage. The energy gain of the internal LTE antenna is about 4 dBi, but its physical connection with UFL pigtails enables alternative connection of another external antenna. The connector for SIM cards is in MicroSIM standard. The modem can be used as backup link.

The WiFi antenna in RouterBoard wAP AC LTE6 with 2.5 dBi gain has dual polarization in both bands, 2x2 MIMO / dual chain. With this solution and supported standards, the maximum theoretical throughput is just under 1200 Mbps - 1200AC, with 300 Mbps for 2.4 GHz and 867 Mbps for 5 GHz. The device has also been equipped with two Gigabit Ethernet ports, including one PoE in. All connectors are hidden under removable part of the case, similarly to indicator LEDs and physical reset button.
Unboxing MikroTik wAP AC LTE6 Kit - what's in the box?
The MikroTik wAP AC LTE6 kit comes in a small cardboard box with the individual kit components neatly arranged inside. The packaging has basic information overprints and a characteristic graphic pattern. What is hidden inside - see the picture below:
The components of MikroTik wAP AC LTE6 Kit are:

MikroTik wAP AC LTE6 access point with a port cap. 2.
DC 24 V 0.8 A power supply. 3.
3. a Gigabit PoE power supply.
4. Mounting brackets and accessories needed to accurately install the modem in a variety of options:
a. A stand for placing on a desk,
b. Screw kit
c. Metal clamp,
d. Mounting base,
e. Base for mounting on a suspended ceiling,
f. Clamps.
5. Short instructions for assembly and configuration.

The compact access point itself is cuboid in shape with rounded corners. Simple white waterproof casing does not stand out in terms of style, but thanks to that it can easily fit into any environment. In combination with the desktop stand, the wAP AC LTE6 from MikroTik presents itself interesting and very aesthetically pleasing - it is then a free-standing device. With the included accessories, it can also be mounted on a wall, ceiling or other flat surface, and thanks to its small size - even on a pole.
Initial configuration for access point RouterBoard wAP AC LTE6
A MikroTik access point can be configured in many ways, making advanced settings for different usage scenarios. However, this is usually not necessary and it is sufficient to use the default settings, which keep configuration complexity to a minimum.
Configuration using a mobile app
MikroTik company provides intuitive mobile application for RouterBoard devices. It can be easily downloaded from Google Play application store for Android devices, or AppStore for iOS. Its name is simply MikroTik:
Remember to grant the application, during the installation process or the first launch, the rights to use the local WiFi network - WLAN or LAN, to find devices in it and to connect to them. You can also allow the MikroTik app to use other permissions depending on your preferences, such as showing notifications.

To configure MikroTik RouterBoard wAP AC LTE6 with the use of mobile application one has to:
Connect the phone or tablet with the installed application to the network created by MikroTik wAP AC LTE6 according to the instructions, access data given on the package.
After logging on the device with default data - login admin, password empty it is possible to start entering own settings for the device.
Activate the access point, which boils down to connecting it to the power supply in the manner of your choice.
The application automatically detects the need for configuration, thus offering a quick wizard option - . . By the way, you can select the option to use recommended settings, which will make it easier to enter the settings for people who do not have advanced knowledge in the subject.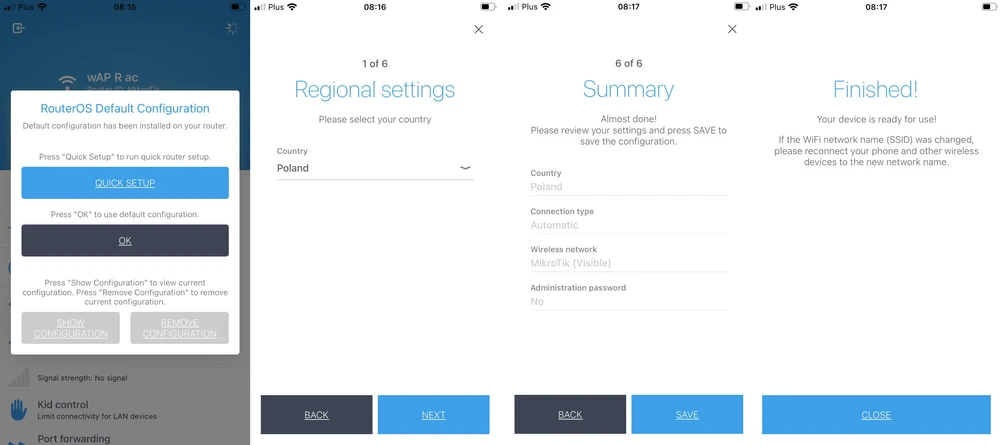 You can also check the current configuration or delete it, thus resetting the device to factory settings.
Initial configuration via web interface
For more advanced users, there is a more traditional way of doing things, without installing an application. Using the web interface is possible virtually on any computer that can connect to MikroTik RouterBoard wAP AC LTE6, as well as on phones or tablets. After establishing wireless or wired LAN connection with the device the user should enter in the browser bar the default IP address of the access point which is given in the user manual.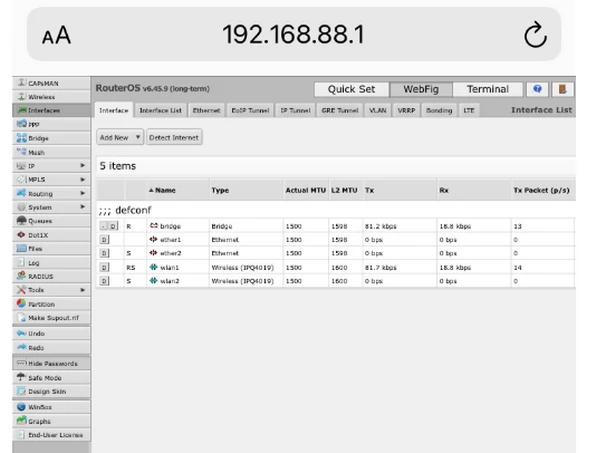 In addition to the detailed configuration options, a Quick Set menu is also available in the GUI, allowing you to make the necessary settings quickly.
Configuration and management options - comments
Due to specific interface for devices from RouterBoard line supported by RutOS system, the first time users can use intuitive configuration via mobile application. For MikroTik wAP AC LTE6 router there is simple wizzard allowing to make basic settings, and various profiles facilitating proper selection even for less advanced users. MikroTik RouterBoard wAP AC LTE6 has also the possibility of configuration via a graphical WWW interface or WinBox application. It is worth to remember during the configuration process to change the default access data - login and administrative password.
Test conditions for MikroTik wAP AC LTE6 access device
We put theMikroTik router to the test for WiFi capabilities, throughput and network coverage, and by the way, LTE modem operation. This is another test in the series performed under similar test conditions. We checked the signal coverage in a two-storey building with a basement, as well as the real available transmission speeds. The conditions we determined for the WiFi tests are similar for each of the network devices tested so far. This allows you to compare their results in a fairly meaningful way.

Our test device is a MacBook Pro A1502 with an internal AirPort Extreme WiFi card based on Broadcom BCM4360 3x3, with 1.3 Gbps PHY. It supports IEEE 802.11a/b/g/n/ac standards. The tests are based on an iperf3 server wired to the switch. Before speed tests, we verified the maximum performance of the LAN and the iperf3 server by connecting a laptop using a Gigabit Ethernet card to the switch. We obtained maximum speeds for a single TCP stream of 894 Mbps for download and 958 Mbps for upload.

We used the AirSurvey program to obtain a signal level map. The measurement points for each test are distributed as shown in the figure below:
The legend for colors shows signal strength. The wAP AC LTE6 RouterBoard MikroTik device performs satisfactorily in terms of WiFi coverage, although it is easy to notice a large impact of the obstacles in the form of supporting walls and floors on the signal attenuation
Results of tests of MikroTik LTE6 wAP modem
The LTE connection speed test was performed similarly to other devices with LTE modem in connection with the operator Play. The network had in our opinion a relatively high load. In comparison with other LTE devices, the MikroTik wireless access point copes moderately. Even when moving the modem to a place with theoretically better coverage on a higher floor, the obtained speeds were between 18 and 27 Mbps dowload and 14-16 Mbps upload. The results may be due to problems with bandwidth aggregation support of MikroTik devices in Play network. Perhaps also the parameters of the antenna affect the achieved throughput. The LTE antenna will probably work better in outdoor installation.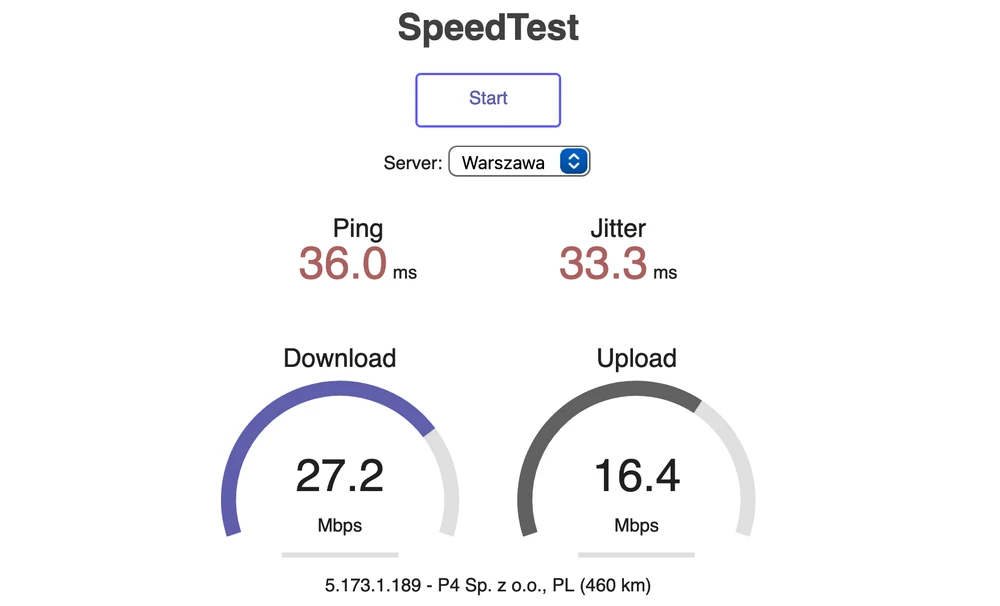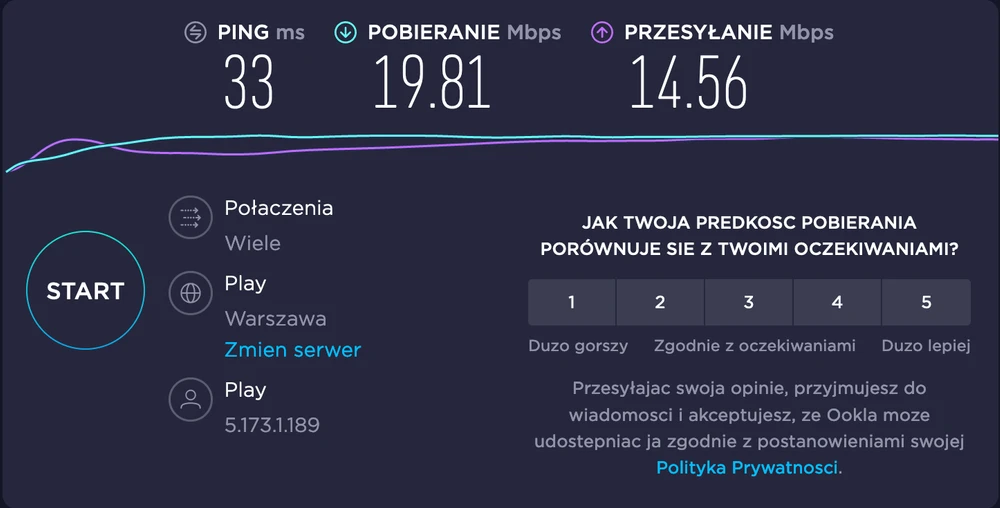 Treating the RouterBoard MikroTik wAP AC LTE6 kit as a WiFi access point with a backup link in the form of LTE cat. 6 modem, we can conclude that such results are acceptable.
WiFi tests on MikroTik wAP AC LTE cat. 6 kit access point
The analysis of the radio spectrum shows that the WiFi transmitter module with a frequency of 5 GHz works perfectly. The following characteristic from the network analyzer shows that the 80 MHz channel width consists of four 20 MHz wide blocks. In addition, the first 20 MHz fragment with the leading channel is transmitted more strongly than the others. The transmit power is not overdriven. On both sides, considerable margins are preserved at the edges of the channel. This allows for seamless operation even in dense network environments. MikroTik wAP AC practically does not generate noise on adjacent channels. In this respect, the characteristics can be considered exemplary.
Speed test of MikroTik wAP LTE6 Kit
The results of tests of download and upload speeds of wireless wAP AC network from MikroTik in selected locations are shown in the table below. Obtained speeds are at a fairly good level, taking into account the specificity of the place of testing.
Measurement point 1 - Download 486.03 Mbps / Upload 432.38 Mbps
Measurement point 2 - Download 395.08 Mbps / Upload 268.76 Mbps
Measurement point 3 - Download 382.8 Mbps / Upload 198.98 Mbps
Measurement point 4 - Download 247.43 Mbps / Upload 77.32 Mbps
Measurement point 5 - Download 20.44 Mbps / Upload 7.05 Mbps
Measurement point 6 - Download 59.11 Mbps / Upload 32.48 Mbps
Point one managed to achieve download results averaging 440 Mbps download and 380 Mbps upload, with good link stability. The more distant second measurement point allowed to achieve results at the level of 260/226 Mbps, and the third - 243/150 Mbps, which is still a very good result. At the fourth point the upload was noticeably lower, but the downlink was still good - 221/64 Mbps. All these measurement points were located on the same floor as the tested MikroTik wAP. The fifth and sixth measurement point were on different floors and the results were significantly worse in both download and upload speeds - 14/3 Mbps and 38/20 Mbps. It is worth noting, however, that the connection was established and transmission was quite stable.
A small access point with many possibilities - summary of tests of MikroTik's wAP AC LTE6 Kit
RouterBoard MikroTik wAP ac LTE Kit is an inconspicuous device housed in moisture-proof casing, providing quite a lot of possibilities. The interface is user-friendly, even for an inexperienced user in the form of an application, on the one hand, and rich possibilities of advanced configuration via the Web, on the other hand, encourage users to test it. The tests of the WiFi module and the performance of the device show that even in large apartments it will cope well, while between floors it is worth to rely on wired solutions or WiFi repeaters. This is not difficult, as the device has two GigabitEthernet ports available for use. Treating the LTE cat. 6 modem in the router as a form of backup link will allow to obtain a stable solution for home and work, entertainment or study. MikroTik devices are a good choice for a reasonable price, not only for home applications, but also for smaller business.